HaynesPro Tech is the cornerstone of our ingenious WorkshopData application. This module contains extensive identification, repair and maintenance information, all at your disposal.
THE FIRST CRITICAL STEP.
Identifying a vehicle is the critical first step in finding relevant pieces of information. WorkshopData Tech features extensive search methods* such as VRM, KBA, engine code, VIN and type which help you select the correct vehicle. A three-step graphics-based vehicle selection is also available.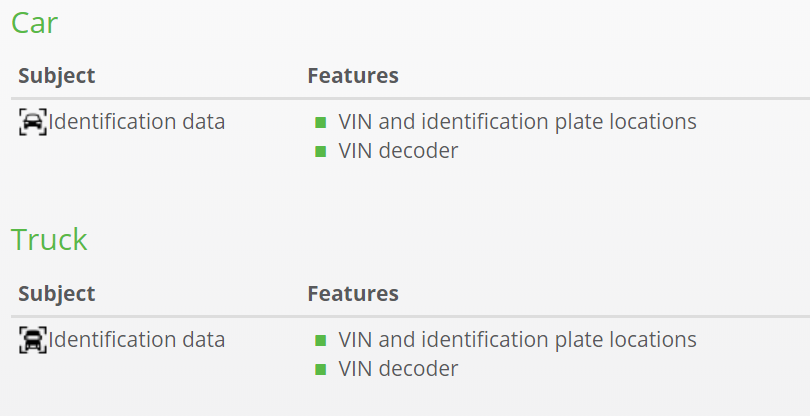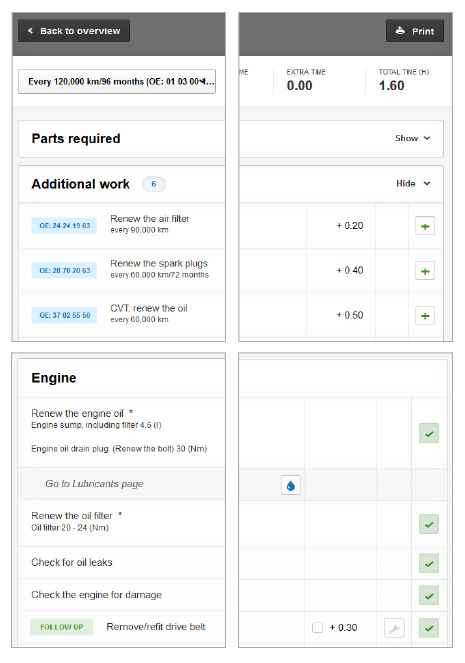 CLEAR, COMPREHENSIVE AND, ABOVE ALL, HELPFUL.
Our maintenance section provides a clear overview of all the maintenance requirements set by vehicle manufacturers. Where necessary, there are links to technical drawings and additional information such as lubricant and adjustment data. A unique feature is the availability of logical follow-up tasks which make it easier to complete a work sheet.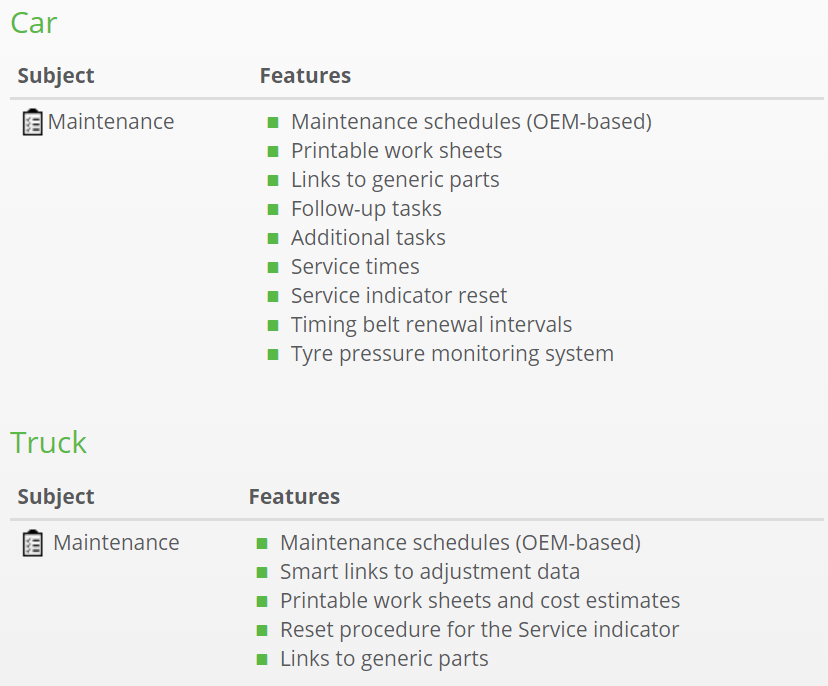 'COMPREHENSIVE' DOESN'T BEGIN TO DESCRIBE THE EXTENT.
The adjustment data specifications which we provide range from torque settings to cylinder firing order, from idle speed to NOx emissions, and from cooling system cap pressure to rear brake disc thickness.
Extension of OEM coverage
TECHNICAL ILLUSTRATIONS SHOWING THE LOCATION
Again, all conceivable specifications are provided here, conveniently linked to related data for ease of use, and featuring technical illustrations showing the location of filler and drain plugs.
DETAILED, STEP-BY-STEP INSTRUCTIONS.
Tech features detailed, step-by-step repair and service instructions for those tasks which, while being relatively routine, require specific procedures for the selected vehicle. Tech also provides technical illustrations and, where necessary, reference numbers identifying special tools. In this way, Tech helps boost productivity and improve workshop flow.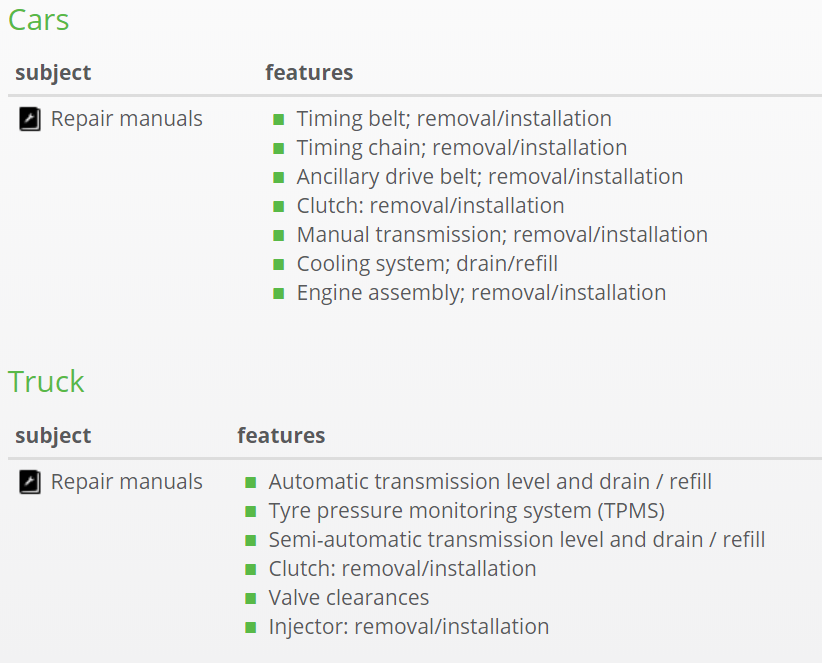 ENSURE THAT THE VEHICLE CONFORMS TO SAFETY STANDARDS.
Helping to ensure that the vehicle conforms to safety standards, HaynesPro Tech also features official OEM recall data.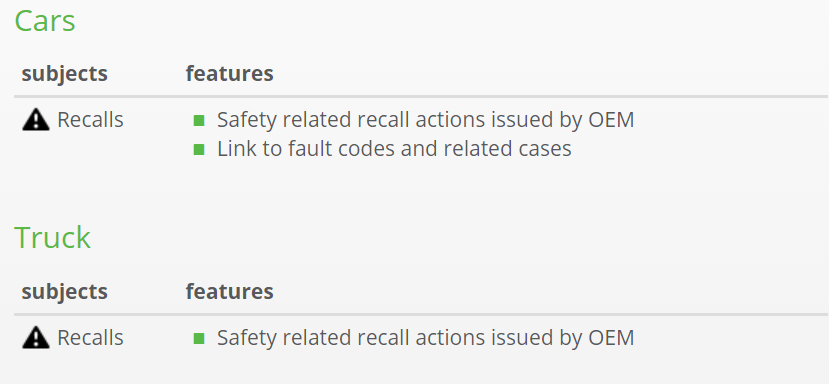 A MORE REALISTIC TIMEFRAME.
HaynesPro expands official repair times to take account of associated tasks, making its data more helpful and relevant in the real world. The module contains numerous included tasks for overlap calculation. By listing follow-up tasks we ensure that no labour times are overlooked. This helps to maximise workshop revenue.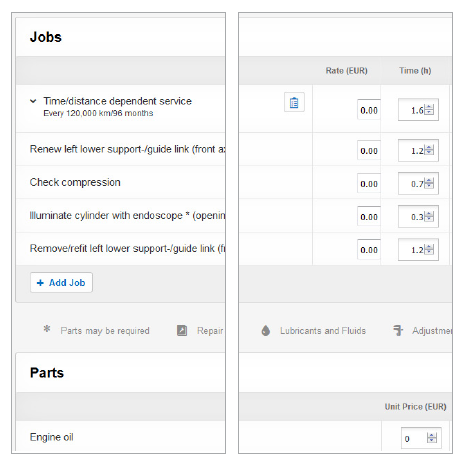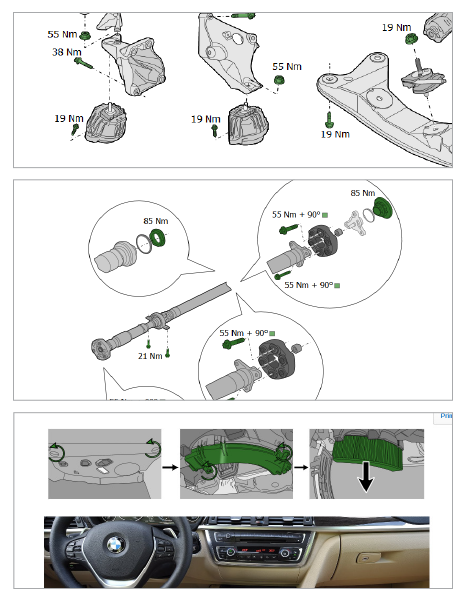 OVER 100,000 HIGH-QUALITY TECHNICAL DRAWINGS.
A picture is worth a thousand words. HaynesPro has over 100,000 high-quality technical drawings in its database. These are bespoke illustrations with featured parts highlighted for ease of identification, and the option to link directly to a shopping cart in a parts catalogue. Torque settings are indicated in the drawing to ensure that the correct torque is used for the specified bolt/nut.

Truck and trailer configurator
As trucks are often used in combination with trailers, TruckSET also includes information on trailers and axles. This information, which is added on the basis of market feedback, allows mechanics to service truck–trailer combinations. TruckSET allows the user to build a custom truck or trailer from the various components stored in the database. The truck or trailer can subsequently be saved for future reference alongside all relevant data. Trucks and trailers are usually constructed from such a wide range of different components that sometimes the manufacturers (OEMs) themselves are unable to advise workshops about the exact parts used on a truck or trailer. The mechanic often needs additional information, such as dimensions, colour, brand, and TruckSET's 'Parts Memo' feature allows users to keep track of specific parts, together with their specifications and characteristics.